Yesterday was hectic,
IPL hair removal -> Postage @ SingPost -> collect referral letter from GP -> appointment at National Skin Centre.
As usual, I woke up late to woke and had to cab to centre point for my IPL appointment. Signed up the package with Angie 1 year ago, went to treatment once and stopped until yesterday. I signed up for upper lips with unlimited underarms session. But guess what; I had braces on and can't do the IPL for upper lips anymore! SOB, got to live with moustache for another 1.5 years.
So which part should I do instead? Bikini Line, Upper Vagina Triangle, Lower Vagina Triangle or Inner Thigh?
OOTD for yesterday. I looked so fat. :(
Was in
Perri Shoulder Cut-Out Top in Black
from The FridayBest.
It is only selling at $18.90.
I took picture with my side view to show my flatter but not very flat tummy. Got progress! Anyway, I shed 5 kg. Hopefully will reach target soon!
Got an appointment at the national skin centre. My purpose was to remove those unsightly moles on my body. Why will I have so many moles?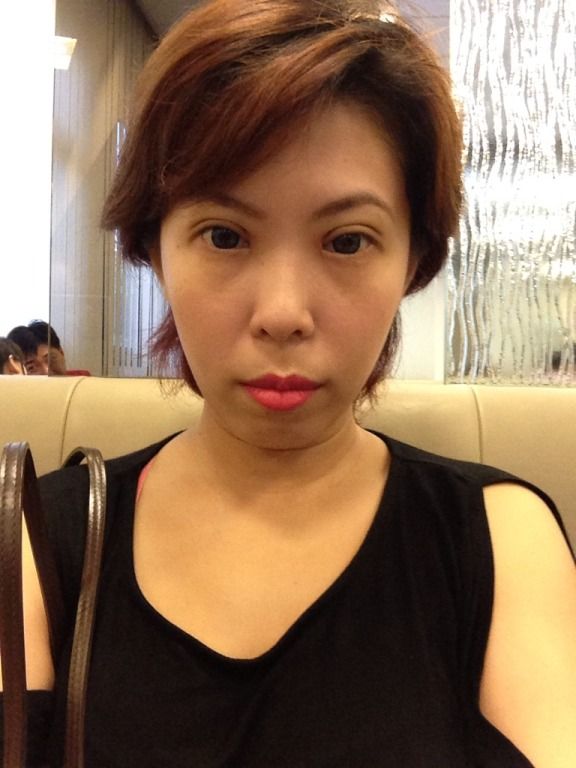 While waiting for my turn! I hope my eyes look better :D
I am starting to love them!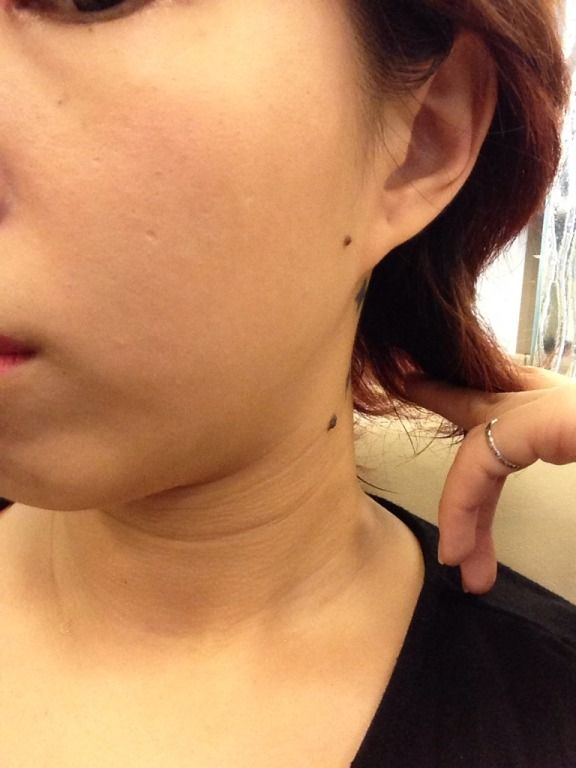 The moles I wanted to remove. One on the chest, one on the neck and one near my ear.
And my neck lines are horrible. ZZZ
According to the doctor, mole is form by a group of pigmented cells.
But he never say why will have pigmented cells.
After examine the moles, he said all the moles are with deep root. To remove them completely, I will need to opt for excision method.
To sum things up, it is like cutting a part of your flesh together with the mole away, and stitch back.
But the best part was, a mole cost about SGD$500.
SO EXPENSIVE!
There will also be scars, especially if I have Keloids!
So I decided not to do the surgery and live with ugly moles forever.
SOB!
And the consultation cost me $101. Sigh!
Spent money to get disappointment.
Met up with Angie and Sihui.
Thanks Girls for meeting me. I might sound moody yesterday, I am still happy that we met up.

Fridaybest Collection 35 Look Book album up on our
Facebook Page
.
Featuring our model
Cherie Tay
.
We also did up a Look Book page in this blog, where we will be updating all the awesome outdoor shoots!
http://thefridaybest.blogspot.sg/p/the-fridaybest-lookbook.html
In collaboration with Vanity Trove, we will be holding this Miss FridayBest Contest Monthly.
I am sure you will not want to miss out all the fun.
Join us now in instagram!
http://instagram.com/thefridaybest
We will also be coming up with trend reports for you!
You can view them all in our Trend Report Page.
http://thefridaybest.blogspot.sg/p/trend-reports.html
Hope all these will make your shopping with
The Fridaybest
more interesting.