Yayyyyy! I finally did something to my eyes, something I wanted to do for a long time. LOL.
Bye ugly inner eyelids, bye epi folds and best of all, bye double eyelid stickers!
Anyway, on the 12th March 2013, which is just a few days ago, I did my double eyelids surgery incision methods (cutting) and medial epicanthoplasty.
I reached the clinic at 9.30am, and that's when the nurse came to brief me about the surgery and fed me with a medicine that will reduce swelling.
After which, we went into the surgery room and the doctor used a tool to show me different height of the crease possible (high range and low range). My face couldn't handle a ultra thick crease because my eyebrows are way too near my eyes. In the end, we settled for a 8.5mm height.
Then the doctor got me to lie down and he started drawing. He said he was designing the parallel eyelids and marking the places he should cut. This was a super long process as he was very precise and accurate. He measured and re-measured, drew and re-drew, just to make sure everything was equal.
And the surgery started. I was put to sleep and my eyes were totally numbed. But after awhile, I woke up half way, was drowsy but couldn't get back to sleep. I could feel they were cutting away the excess skin with scissor, using the laser equipment to burn the fats away and sewing. No pain at all. I was asked to open my eyes so the doctor can gauge if the eyelids are equal.
After the surgery was done, the nurse put a cold pack compression on my eyes to reduce the swelling. I slept for awhile before the nurse informed my mum to pick me up.
When the nurse woke me up, I looked into the mirror, expecting to see my eyes with serious bruises, but to my surprise, I looked perfectly fine, except for the swell and black stitches.
Collected the medication, which includes pain killer, a cream for affected area and also a medicine to reduce swelling.
The whole surgery took 2.5 hours, faster then expected. The whole process may sound traumatising but believe me, it is not that bad. Maybe my doctor really put me at ease. (: I am so so so glad that I went to him.
That's how I looked when I came out of the clinic. Not that bad right?
The stitches.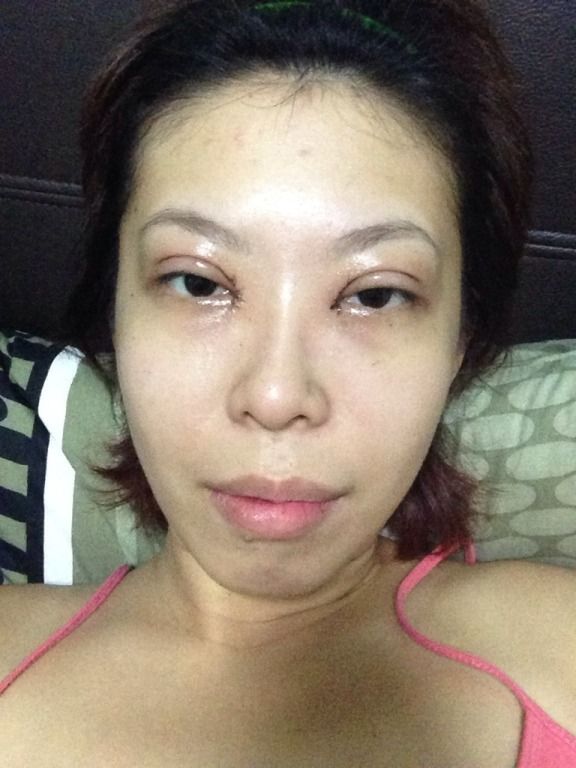 My mum started to stocked up alot of pineapples in the fridge and my lovely aunt bought alot of fishes and vegetable for me too.
I was only allowed to have fishes, vegetables and pineapples everyday cause they aids in recovering and pineapples reduce swelling.
Although the doctor only asked me to avoid sea foods and spices, my mother banned me from dark and light soya sauce (cause scars?), chickens and eggs (cause keloids) too.
Also, they got me 5 cold packs.
POST SURGERY DAY 1
I still took pain killer on post surgery day 1, quite painful, especially the epi.
But it wasn't so swollen anymore.
POST SURGERY DAY 2
It only gets better (:
The wounds start to itch abit in the morning, means it was healing.
But during the night, it got very itchy.
I tried to be very careful while sleeping, but I still touched my eyes while sleeping cause it was too itchy.
In the end, I woke up in pain. :( Immediately applied cold pack on my eyes and went back to sleep.
I was so afraid that I will scratch the stitches and the stitches will snap. LOL
Was too paranoid.
POST SURGERY DAY 3 - TODAY
This is how I look now. Better?
Will be heading town later. I hope I won't look so post-surgery when with spectacles on.
Will be removing the stitches next Tuesday. Can't wait. Will update more again.
Its cold pack time again, bye!